TASTE OF OREGON RV TRIP
Bend
Really, before you even get to Bend, you need to stop at one of the many fabulous places off Hwy 97 south of town:
Newberry National Volcanic Monument - Active volcano, lava flows, lava rocks, waterfalls, lakes, hiking, biking, and much more! Camp at one of four RV campgrounds inside the caldera (Mark of RV's To Go recommends East Lake).

Paulina Plunge - If you're feeling adventurous try this full-day downhill mountain bike trip that also includes some hiking and visits to half a dozen waterfalls for swimming, jumping and sliding. The trip is based out of Sunriver (west of Hwy 97), though the actual tour is all through Newberry National Volcanic Monument (east of Hwy 97).

Lava River Cave - Open during the summer, you can explore a mile-long lava tube.

Lava Lands Visitor Center - Day use area with hiking through lava fields and young pine forest at Lava Butte.

Sunriver - Take a whitewater raft trip down the Deschutes River or another nearby river. Outfitters include Sun Country Tours, Seventh Mountain River Co., Central Oregon River Adventures, and River drifters.

High Desert Museum - 135 acres, wildlife encounters, exhibits, events, gift shop, restaurant and more! This is a very unique museum that appeals to children and adults.
If you do go into Bend itself you will find:
Downtown - It's not huge, but the downtown area is cute and filled with shops, restaurants, breweries, bars, a Visitors Center, and a really nice riverside park called Drake Park. See pictures below.

Tube, Kayak or Stand-Up Paddleboard trips through Bend - Outfitters include Sun Country Tours, Seventh Mountain River Co., and Central Oregon River Adventures.

Old Mill District - This is a huge outdoor shopping mall with all the standard chain stores, restaurants, a movie theater and an IMAX theater. Located along the Deschutes River.

Tumalo State Park - RV campground (online reservations), hiking trails along the river, swimming and more. Located on the Deschutes River at the north end of town, just off SR 20. This is probably a great place to stay.

Mountain trips - Bend is also the launching point for all kinds of trips to Mt. Bachelor and the neighboring mountains, as well as Cascade Lakes. Outfitters include Wanderlust Tours and Central Oregon River Adventures.
Leaving Bend you will head north on Hwy 97, then take SR 20 West (McKenzie-Bend Hwy). If you are going straight back to RV's To Go in Wilsonville, then take SR 20 West all the way to I-5 North. If you want to check out Silver Falls State Park, then from SR 20 you will take SR 22 West toward Salem, though you will exit near Sublimity.
PICTURES FROM THE TRIP
This is Drake Park, which runs along Mirror Pond. (That is what they call the portion of the
Deschutes River that runs through town.) It is dammed, and so you can rent tubes, kayaks,
and stand up paddleboards on this section.  It is a lovely park with a nice riverwalk, just blocks
from downtown.
We rode our bikes up to First Street Rapids Park. This is the view there, and there are
hiking/biking trails accessible here.
We decided to try one of the breweries because they usually serve good food. We saw that
Bend Brewing Co. indeed had a nice menu (including vegetarian and gluten-free fare), AND
they were  going to have live music that night, and it turned out to be a good choice. The setup
for bands isn't the greatest, but it's still very enjoyable.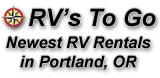 Over 200 RVs for rent from private individuals throughout Oregon.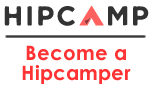 Mail service for travelers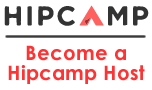 Earn up to $40,000 per year renting your RV when you're not using it.