TASTE OF OREGON RV TRIP
North Bend / Coos Bay
The North Bend area has a Walmart, plus other grocery stores and chain stores to get anything you might need for your trip. There isn't much of a downtown area, but we did check it out and find a nice restaurant called Liberty Pub.
Coos Bay has a cute riverfront downtown area with a visitors center, boardwalk, restaurants, bars, shops and museums. We just missed it on our trip, but we learned that there is a Coos Bay Wine Walk from 5-7pm on the first Friday of every month from February through December (leaving from the Visitors Center).
About halfway between North Bend and Coos Bay is The Mill Casino, which offers RV camping, gaming, food and more. When we were there the campground was full, but we camped overnight in their huge parking lot for $15 (no hookups, but you can use their dump station).
PICTURES FROM THE TRIP
When we got to Coos Bay we parked at a casino in town and got the bikes off and biked around.

We stayed in the parking lot of The Mill Casino all night. We used our bikes to go back up to
North Bend and check out that area.
We went to the Liberty Pub in North Bend, and it was really good. This is a hamburger that is
baked into a pizza crust
Sinfully creamy and garlicky homemade Mac and Cheese (delicious) at the Liberty Pub
I love the casual atmosphere of the shops in Coos Bay...what a great little window display
(it's a real dog).
Coos Bay Boardwalk - find historical info, fresh seafood and boat tours
A sculpture in the historic display shelter on the Coos Bay Boardwalk
A historical display sign at the Coos Bay Boardwalk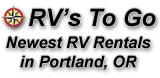 Over 200 RVs for rent from private individuals throughout Oregon.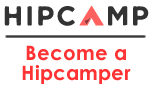 Mail service for travelers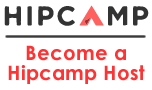 Earn up to $40,000 per year renting your RV when you're not using it.