TASTE OF OREGON RV TRIP
The "Taste of Oregon" RV Trip recommended by RV's To Go in Wilsonville, Oregon (just south of Portland) is a great way to get a sampling of some of the wildly diverse landscapes you can find in Oregon. They recommend taking 7-10 days for this trip, but depending on what you like to do, you may want to take even longer if you can. From the rugged Oregon coast, to the Redwoods, Crater Lake, the High Desert, and waterfalls galore - there is so much to see and do!
Some highlights of this tour are offered here, but there are tons of RV parks, State Parks, State Recreation Areas, and scenic waysides along the way, as well as other things that might interest you. Just have an open mind and keep an eye out for such things when traveling.
INTERACTIVE MAP OF TRIP ATTRACTIONS
Click an icon on the map below for details:
TRIP HIGHLIGHTS
OVERVIEW MAP OF THE ROUTE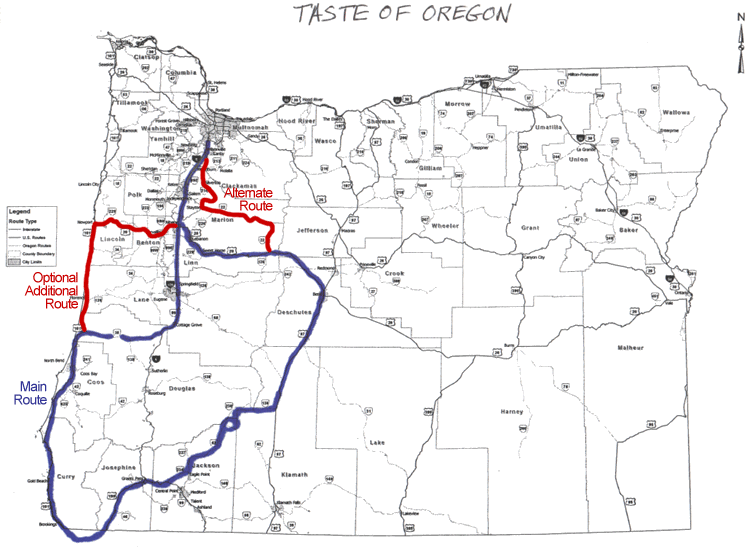 Click for a printable PDF of the map
SAMPLE RV TRIP ITINERARY
Day 1:
Pick up your rental from RV's To Go in Wilsonville and head south on I-5 to exit 162 (the Curtin/Drain exit). Head west on Highway 38 (Umpqua Highway) towards the small town of Elkton, where the highway begins to follow the Umpqua River. Follow Hwy 38 to the Oregon Coast at Reedsport. (Just before the junction with Hwy 101, on the south side of the road, is Dean's Creek Elk Viewing Station, which is a good place to pull off and watch the large herd of Elk grazing in the fields.) 
At Highway 101 head south to the town of Winchester Bay. This is at the mouth of the river where it meets the ocean. This area has a lot of camping spots, including Windy Cove, Winchester Bay Marina, Tugman State Park, Umpqua Lighthouse State Park, as well as some private parks. There are crabbing opportunities from the long pier that extends into the bay. If you are more adventurous there are boat, bait, and ring rentals. If you are really adventurous there are many dune buggy rentals in this area. 
Day 2:
From Winchester Bay drive south toward Coos Bay, but just before that (at North Bend) turn west, going past Charleston to Sunset Bay State Park and Shore Acres State Park. This could be an alternate to Winchester Bay, or a highly recommended spur trip on your way south. Once a private residence owned by a shipping tycoon, Shore Acres is now a lovely state park with incredible cliffside ocean views. Be sure to check out the formal gardens, water features, and part of the estate. 
From there make your way south to Bandon to explore the old town waterfront, have lunch and sample the cheeses and ice cream at the local creamery. Continue south to spend the night at Cape Blanco State Park - don't miss the turn off just past the Sixes River. You'll see cranberry bogs and sheep fields as you head toward the most westerly point of the continental United States. During the season you can tour the lighthouse and other historic buildings. The campground area was created by hundreds of years of wind shaping the trees into tangled bushes. Originally an equestrian park, there are still a few stables in use today, but the real beauty of this park is the solitude. Undeveloped beaches are rare, so enjoy a walk south from the campground to the mouth of the Elk River. You don't often find two rivers (Sixes and Elk Rivers) entering the ocean so close together. 
Day 3:
Head south on Hwy 101 (Oregon Coast Highway) to Gold Beach, a quiet logging town at the mouth of the Rogue River, where you can book a jet boat ride up the river. (If not here, you will have another opportunity later in the trip for a jet boat ride.) This river is known for its diverse fisheries, including sturgeon, trout and many species of salmon.
For the night continue south to Harris Beach State Park just north of Brookings. Arguably one of the best state parks on the Oregon coastline, Harris Beach offers great access to the bays. If you want to go ocean fishing then Brookings or Chetco Harbor are great places to launch, offering easier (calmer) access to the ocean. 
Day 4:
Continue south on Hwy 101, almost to Crescent City, then turn east on Hwy 199, which follows the Smith River. You owe it to yourself to stop at Jedediah Smith State Park and walk through the giant Redwoods. This park is also a great overnight alternative if you want to skip Harris Beach/Brookings. 
Continuing east toward Grants Pass, there is a spot at Cave Junction where you can detour to the Oregon Caves for some spelunking. Be aware that this detour is 16 miles one way on a winding road. If you don't go caving, you can stop at Grants Pass for lunch, or for your last chance at a jet boat ride on the Rogue River. 
The goal today is to get close to Crater Lake. A nice place to stay is the campground at Joseph Stewart State Recreation Area (on Lost Creek Reservoir between Shady Cove and Prospect).
Day 5:
Crater Lake is always beautiful, but the sunrises and sunsets can be particularly breathtaking. Here, atop the Cascade Range, is the deepest lake in the US, which is actually the crater left when Mt. Mazama erupted. Crater Lake is world renowned for its clear, pure waters that come solely from rain and snowmelt. 
From here head north to the High Desert area of Central Oregon, where the more arid climate is dominated by pine trees, sage brush and Madrone bushes, and the landscapes were formed by volcanic activity. Nice camping choices are at East Lake or Paulina Lake, inside the Newberry Crater itself. Visit the High Desert Museum just south of Bend. Or, do the Paulina Plunge, where you rent bikes and ride from the top of the mountain down, stopping to explore the numerous waterfalls, some of which have natural waterslides. 
Day 6:
There is a lot to do in the city of Bend as well. The cute downtown area offers great restaurants and breweries. The Deschutes River runs right through town, and you can rent stand up paddleboards, kayaks or inner tubes to exlore it. On the north side of Bend is Tumalo State Park, which is a great place to set up adventures like whitewater rafting trips on the Deschutes River (as far north as Maupin for the daredevils). Alternatively, Smith Rock State Park is wonderful for hiking, photography, and rock climbing. Or, take a spur trip and head east to the Painted Hills to see another of Oregon's seven wonders. 
Day 7:
Head north from Bend on Hwy 22. You can stop to fish or swim at Detroit Lake, or you can head straight to Silver Falls State Park, a hikers paradise. The "Trail of Ten Falls" is a nine mile loop that actually passes behind some of the falls. There are also shorter variations of the loop hike that still lead you behind waterfalls. This park is fabulous for its stunning beauty, and because it is only about an hour drive to the RV rental location.
Day 8:
Finish cleaning the inside of the RV, make some breakfast, then head back to Wilsonville. The truck wash in Donald (at exit 178 on I-5) is a good place to wash the outside of the unit, and fill it up with gas and propane before returning it to RV's To Go by 10 am.

This is sample guide for a week-long Taste of Oregon trip. It's hard to do everything described, so just pick what sounds best to you, and you will have a lot of fun. The total trip is 800 miles, which means you will only be driving about 2 hours per day. That gives you plenty of time each day to explore the area.

Since there are so many activities and sights along the way on this trip, RV's To Go really recommends a 10-day or two week rental to enjoy all the attractions without feeling rushed.